Hello! I'm Joohee Kim from South Korea. I have been an independent translator since 2015.
Language Pair: English - Korean
Expertise: Fashion, Marketing, Cryptocurrency, Game, Tourism
Timezone: GMT +9 (Submission in any time zone)
Contact:
• Email: [email protected]
• Telegram: @jooheekim1027
• Mobile: +82 10 7123 3980 
• Paypal: [email protected]
Translation/Proof-reading experience:
Fashion
• Item descriptions for luxury brands for their official Korean-language websites
• Item & Collection descriptions for Italian fine jewelry brands
• Handled all types of documents including item descriptions, marketing copies as well as internal documents for an American multinational sports corporation
• Trend reports and collection reviews for a trend forecasting company
• Transcreating category descriptions for luxury fashion retailers selling high-end brands including Balenciaga, Diesel, Comme Des Garçons, Vivienne Westwood, Isabel Marant, Burberry, Gucci, Chloé, Prada, Tom Ford, Jimmy Choo, Valentino, Alexander McQueen, Givenchy and more)
• Marketing copies for a luxury luggage manufacturer
• Ralph Lauren's training materials 
Game
• Localization of a city-building survival game
• Localization of a war survival video game
• Marketing/In-game texts of EA games. (Simcity, Need for Speed series) 
• Localization of mobile games. (Idle Tuber Empire, My Hospital, Zombie Attack, What The Hen! and more) 
• Marketing resources of a single-player fantasy RPG, Planescape: Torment
• Customer service messages for Candy Crush Saga, Farm Heroes, Angry Birds 2
Cryptocurrency
• Website translation for Algorand
• Website, newsletter, whitepaper translation of Blockchain project related to the retail industry
• Localization for Waves platform and Waves client
• Crown Tech website translation and proofreading
• Whitepaper for cryptocurrency platform related to diamonds
• Short pitch presentation materials related to Ethereum tokens and the blockchain
• Marketing materials for a blockchain platform related to the stock image market
• Whitepaper for a blockchain platform related to biotech
Tourism
• Tourism magazine articles of Japan National Tourism Organization
• Cities description and customer service messages for SkyScanner
• A marketing document for the Marriott hotel chain
• A menu and marketing materials for a restaurant in Serbia
Marketing
• Provided translations of marketing articles for Australian youth hosteling association
• Customer questionnaires for German lighting group
• Marketing materials and wordings for email texts for multimedia software
• In-flight duty-free shopping materials
• Korean-language versions of advertisement copies for the 2018 Winter Olympics in Pyeongchang
• Customer satisfactory surveys for Norwegian aluminum and energy company
• transcreation and marketing copies for one of the world's largest PC makers
Business
• Internal human resources materials regarding the process flow of a life insurance company in Korea
• Coca-cola Korea's food labels stickers
• VAT reclaim and tax solutions firm's website localization
• Personal release agreement for a film production company in California, USA
• Translated experimental subjects bill of rights for the pharmaceutical research firm
Entertainment
• Annual Rewind video subtitles for an American video-sharing platform
• Animation promotion text for a renowned American animation studio
• Lyric translation for American pop stars
General
• Content transcreation and review for Wix ADI localization project
• Posts, tags, and customer service messages for Facebook, Pinterest, Twitter, and Viki.com
• "The Tenants Bill of Rights NYC" for Met Council on Housing
• Flyers and articles for LifeSTEPS
("Don't Fall for it", "Resident Flyer", "Identity Theft and Scam Alerts", "Postural Hypotension - Getting up to faster", "Family Preparedness Plan", "Be A Good Neighbor", "Stretch Your Dollar")
Reference:
• Translators Without Borders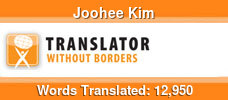 English to Korean volunteer translator
• One Hour Translation "Our translation company provides all types of translation ... all translated by professional translators Joohee K."
• Trommons "Dear Joohee Kim, On behalf of The Rosetta Foundation ... thank you for your dedication and enthusiastic support in removing the price tag for access to information and knowledge across languages for those who need it most."
If there is anything I can help with, please feel free to contact me at any time!